Journal Entry:
Fri Apr 5, 2013, 3:26 AM
★ You are and will be forever a STAR ★




"Expressing your opinion is a form of civil defense"




"My mission was to encourage the opposition movement,
to let people know they are not alone in this"



His 'code name' could be mistaken for the name of a rifle: P183.
The covert graffiti artist, often referred to as "the Russian Banksy", has died.




Pavel won recognition as the creator of provocative art works scattered across Moscow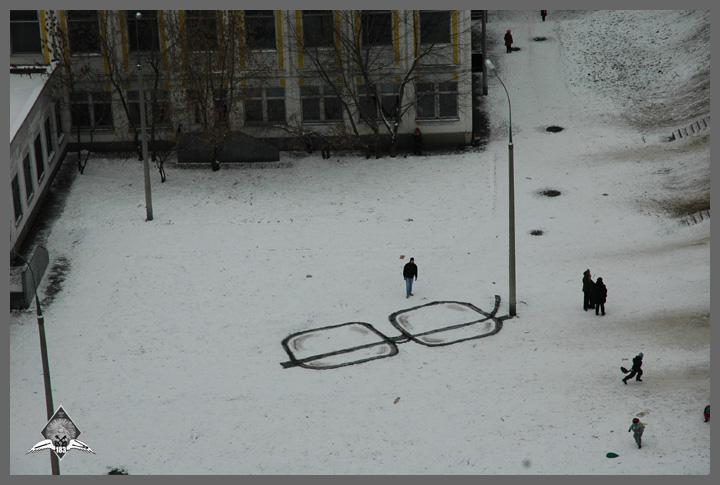 The details and conditions of the "Russian Banksy's" death will not be released,
the production company Pavel worked for, said in the statement.




Preliminary theories, however, rapidly spread online
with people saying that the graffiti artist hanged himself.
At the same time the media,
referring to street art group "310"
said he was poisoned.




Not much known about the artist who preferred not to disclose
his name and signed his works like P183,
besides his name – Pavel Pukhov - and age 29.



P183 went international after several British,
American and French dailies published photographs of his works,
saying his 'guerilla' tactics of painting street murals
were similar to those used by iconic British nonconformist Banksy.




However, P183 didn't take the comparison as a compliment,
noting he had been shaping his signature style for the past 14 years.




The mysterious figure, allegedly in his late 20s,
preferred to cover his tracks and hide his face
with a black balaclava to remain anonymous.



A can of spray paint never failed him,
helping the up-and-coming artist share his ideas
with those who kept their eyes wide open.


Put simply, I want to teach people in this country
to tell lies from the truth and to tell bad from good"

he said in an interview with Russia Today television,
wearing a black ski mask that covered most of his face.




"This is what our people still cannot do"




Despite all that, he said he did not consider himself a political artist
and hated politics just as much as he hated advertising.




"With my work, I want to communicate certain ideas to people."




The artist has claimed to have had many professions since graduating from a university,
working as a computer expert, photographer, cameraman,
film director and even child psychiatrist.




He scoffed at comparisons to Banksy, saying they belittled his own style.



"Like poets who put their thoughts and reflections onto paper, I want mine to be heard."




"What is culture? Culture - a system of prohibitions"




"If I die tomorrow, I can at least feel that I have left something real behind."




★ Pavel Pukhov - Павел Пухов - P183 ★
August 11, 1983 - April 1, 2013

Watch

Reply

I'm speechless and there are tears in my eyes.. i really don't know what to say....
Reply

This is very interesting, and from the pictures he was to say the least a VERY talented street artist!!!
Reply

Reply

Even though i'm Russian, i never heard about the guy, but his works are inspirational, not many artists like him are out there, he definitely left his mark on society.
Thanks for sharing this article.
Reply

It's always the talented ones...
Reply

He would be proud now wherever he is ÓuÒ because he achieved his commitment, he let something real behind

Reply

I'm curious...what did he die from?
Reply

I think it's not important regard private business of "anonymous" artist

Reply

They won't release it but from what I read some say he hung himself - others say he was poisoned
Reply

i am so sad because of this ;( i think im starting to cry for this ;(
Reply

Reply

Reply

Reply

that's so cool!! total respect for him! <3
Reply